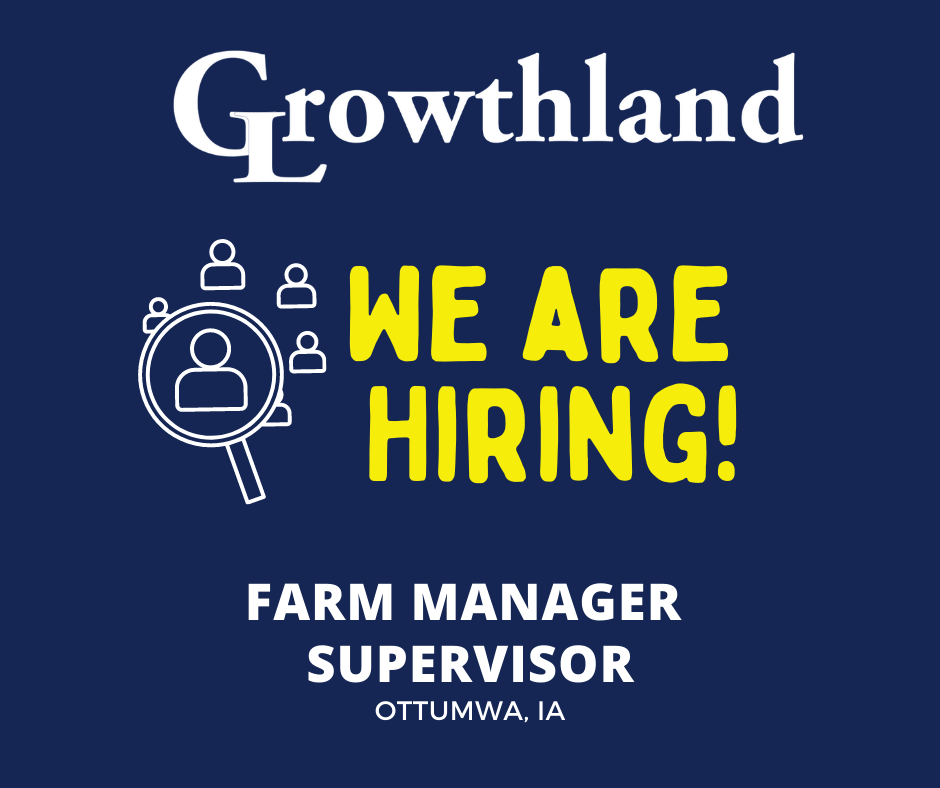 We have an excellent opportunity for someone who is passionate about agriculture and our farmers!
We are currently looking to bring on a Farm Manager to take over our Ottumwa location. The primary responsibility of the Farm Manager Supervisor is to provide local farm management for our Ottumwa office, including a variety of responsibilities and hands-on duties around various farms.
They will also possess the desire and leadership skills that would allow them to oversee the company-wide farm management operations.
A successful candidate will be willing to learn, accept coaching, maintain a positive attitude, work alongside the farmers, executive team and strive for continuous self-development.
Job Duties & Responsibilities
Farm Management:
Oversee the Farm Management division –

Supervise company-wide Associate Farm Managers and Administrative staff
Development and implementation of farm management processes
Implement appropriate risk management processes
Grain marketing for crop share, modified crop share, and custom managed farms
Coordinate closing of properties with company real estate staff, associated attorneys, 1031 intermediaries, lenders, escrow companies, etc.

Hands-On Management of local farms around Ottumwa

Routine farm visits
Manage farm finances: budgeting, accounts receivable, and accounts payable
Capital improvement analysis, coordination, and oversight
Participate and develop reports to clients: seasonally and end of year
Farm owner communication as needed
Work with farm tenants on crops, projects, etc.
Lease negotiations with farm tenants and farm owners

Financial analysis of agriculture investments for a variety of purposes

Selling, investing, financial planning, etc.
Education
Minimum of bachelor's degree in an agriculture-related field.
The ideal candidate will have or obtain their real estate license to broker transactions for buyers and sellers of agricultural property.
Experience
Five to ten years' experience in agriculture or related field (real estate, property management, AG sales, etc.)
Knowledge, Skills and Abilities
Knowledge of:

Computer operations
Microsoft Office software including Word, Excel, Access and Publisher
The agriculture industry

Skilled in:

Managing and developing personnel
Process development, documentation, and implementation
Continuous improvement
Verbal and written communication
Professional communication with internal counterparts and external clients
Thoroughness and accuracy
Critical thinking and informed decision making

Ability to:

Work both independently and in a team environment to accomplish goals
Perform follow-ups to ensure quality of work product and/or action items are completed
Work with allied partnerships in a professional, courteous manner
Maintain confidentiality
Listen and accept coaching from peers and managers