APPRAISALS IN 2022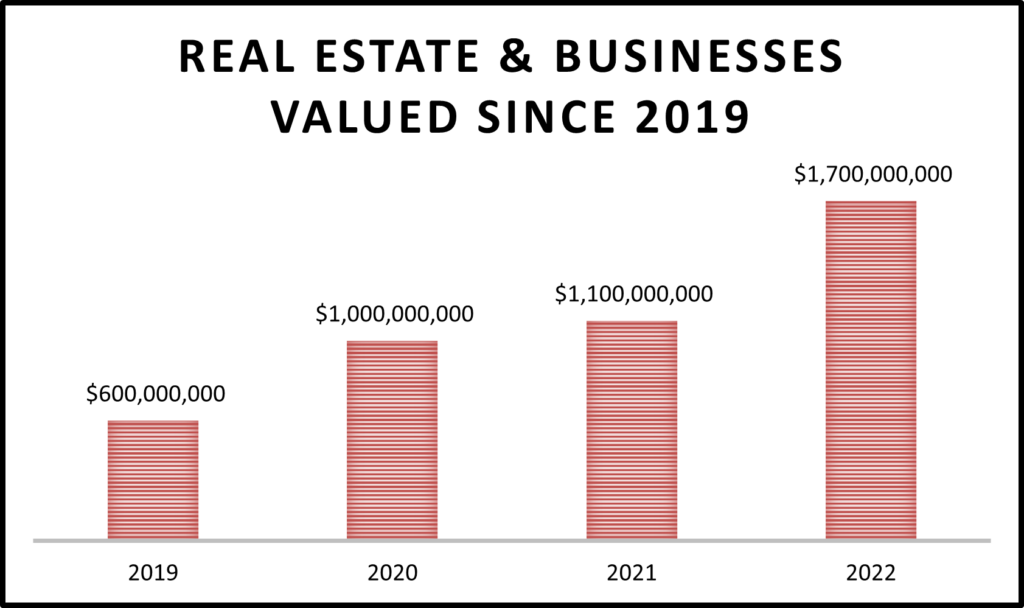 Appraisals of agricultural real estate and business valuations drive much of our other services. We had a banner year in 2022 with a 55 % increase in the value of the property and businesses we appraised. Few other highlights:
· Over 700 appraisals completed
· Properties appraised in 8 different states
· Varying property types from farmland, swine facilities, dairy farms, layers, grain elevators, feed mills, among others.
· Numerous partial interest valuations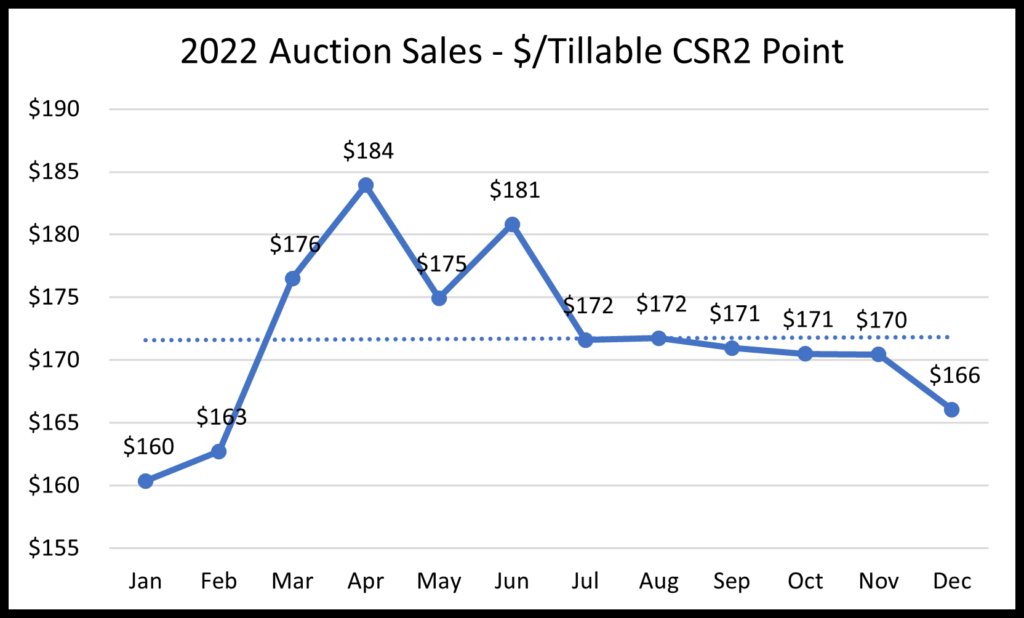 FARMLAND VALUES IN 2022
The graph to the right is from our internal sales database. This includes 650 auction sales across 75 counties in Iowa with 70 % or higher tillable land.
The rating we calculate is $/Tillable CSR2 Point. CSR2 is a measure of the productivity of the soil with 0 being the lowest and 100 being the highest. Land values increased approximately 10 % by June due to high commodity prices and continued low interest rates. However, the market gave most of this increase back primarily due to higher interest rates starting to limit the buyer pool.
ITEMS ON OUR RADAR IN 2023
· Crop yields and prices in 2022 were sufficient to offset higher input costs. Will revenue be high enough again in 2023?
· Drought conditions continue across the country. Soil moisture levels need to increase for yield potential for near year's crop.
· High construction costs and feed costs have limited growth in livestock industries. The lower supply has supported profitability, but made it a volatile market in 2022 and projected in 2023.
· It will be challenging to stay in front of inflation without higher labor participation rates, which remain at 40 year lows.
The Money Supply in the US has exploded since 2020, which the Federal Reserve is starting to ease. Can a soft landing
OTHER HIGHLIGHTS OF GROWTHLAND IN 2022
· Acquisition of Mid States Farm Management added a branch in Ottumwa, Iowa, increased the amount of acres we manage, and provided more of a presence in southern Iowa. We look forward to growing this area in 2023.
· Brokerage of over $44.00 million of real estate and businesses in 2022; a 100 % increase since 2020!!
· Staff additions included two appraisers, two farm managers, and three real estate agents. We have been very fortunate to add such qualified staff as our other professionals wind up their careers.